Amity (6-14)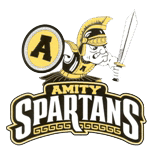 Tournament Result:​ Lost as (16) seed 8-0 to (1) East Haven in the CIAC Division II First Round
​
Coach: Mike 'Scooter' Richetelli (1st season)
​
Key Contributors: Jason Csejka (F, Jr.), Colin Hughes (F, Jr.), Joey Schittina (F, Jr.), Brian Earley (D, Sr.), Jake Silliman (D, Sr.), Mike Miller (D, Sr.), Kenny Page (D, Jr.)
​
Big Losses: Charlie Csejka, Nick DeGennaro, Mac Dean, Eddie Martino (Mid Fairfield)
​
Impact Newcomers:
​
Goalie Situation: A pair of seniors will backend the Spartans defense this year. Tyler Cole and Michael Holloway will look to replace graduated starter Tyler Johnston. Cole saw action in 8 games last year while Holloway manned the crease in 4 games.
​
Outlook: Scooter Richetelli takes over for famed Head Coach Gary Lindgren and inherits a decent group of hockey players who are built from the goal out. In net a pair of seniors, Tyler Cole and Michael Holloway, comprise Richetelli's goalie options. Tyler Johnston, who graduated this past spring appeared in nine games for the Spartans while Cole saw action in eight and Holloway in four. Statistically, Cole was actually probably the strongest of the three. The Spartans return a solid group defensemen lead by seniors Brian Earley, Jake SIlliman and Mike Miller. Add junior Kenny Page to this group and the Spartans have a formidable defensive unit. Juniors Jason Csejka, last year's leading scorer with 22 points and Colin Hughes will look to bolster the offense while senior Joey Schittina will contribute as well. Would-be junior Eddie Martino (15 points) left Amity early to play for Mid Fairfield. Amity should improve on their six win season from a year ago.
Tournament Result:​ Lost as (10) seed 5-0 to (2) Watertown-Pomperaug in the CIAC Division II Quarterfinals
​
Coach: Jim DiNapoli (2nd season)
​
Key Contributors: Will Benni (D, Sr.), Liam Deane (D, Sr.), Robert Lionetti (D, Jr.), Max Bunton (F, Jr.), Blake Kustra (F, So.), Spencer Engstrom (F, So.)
​
Big Losses: Justin Edwards, Scott Klouda, Mitchell Petrillo, Zach Withington
​
Impact Newcomers: Jared Yakimoff (G, Fr.)
​
Goalie Situation: Looks like the freshman Yakimoff is going to be one of the guys for the Hornets this year. He'll be joined by NDWH transwer Greg Lucente. They'll have some big shoes to fill with Edwards graduating. If DiNapoli's boys are going to at least maintain their above .500 play, their contributions are vital.
​
Outlook: Branford lost some key contributors from last year in Scott Klouda (46 points) and Mitchell Petrillo (14 points). They also technically lose Zach Withington (27 points), though his contributions were halted last year mid way through the year. However, second year coach Jim DiNapoli returns a sneaky good group of underclassmen forwards who I think will make immediate impacts. Sophomores Spencer Engstrom is coming off an impressive freshman campaign which saw him notch 14 points. Junior Max Bunton popped home 10 goals last year while sophomores Blake Kustra and Zach Jones are expected to elevate their play this year. On defense, the Hornets will turn to some experience with seniors Will Benni and Liam Deane and offensively-inclined junior Robbert Lionetti carrying the lumber. The goalie position is still in flux but most people around Branford camp believe they'll find their guy in either freshman Yakimoff or junior Lucente.
Cheshire (11-9)
Tournament Result: Lost as (6) seed 2-1 to (3) NFI in the CIAC Division I Quarterfinals

Coach: Anthony Giusto (3rd season)

Key Contributors: Liam Killea (F, Sr.), Jared Purslow (F, Sr.), Jason McKinley (F, Sr.), Sawyer Hackett (D, Sr.), Ben O'Connor (D, Sr.), James Ilnicki (D, Jr.)

Big Losses: Ryan Novia, Matt Federico, Conrad Reynolds, Ammar Chaudhry, Tom Bishop, Vin Solla

Impact Newcomers: Nicholas Maringola (G, So. Springfield Rifles Elite), Kyle LeTourneau (F, Sr.), Niklas Vasiljeus (F, Fr.)

Goalie Situation: Senior Anthony Vignola saw 113 game minutes last year, mainly spelling Tom Bishop. He will compete with newcomer Nicholas Maringola for playing time this year.

Outlook: Cheshire loses 11 graduated seniors, including four of their top five scorers from a year ago. Senior Liam Killea is the Rams' returning leading scorer at 15 points. Giusto will look for contributions from senior Jared Purslow (8 points), senior Jason McKinley (9 points) and new talent in senior Kyle LeTourneau and freshman Niklas Vasiljeus. On D, the Rams have some stability coming in the form of senior Sawyer Hackett and juniors Ben O'Connor and James Ilnicki. Cheshire always seems to find a way to be competitive with a next guy up type of focus and mentality. Even last year leading scorer Matt Federico only had 21 points which shows Cheshire won't be hampered relying on one or two guys. The Rams could potentially win around 11 games as they did last year but a lot of that depends on their ability to play defensively sound hockey.
Tournament Result:​ Lost as (14) seed 5-2 to (3) NFI in the CIAC Division II First Round
​
Coach: Chris Tornaquindici (1st season)
​
Key Contributors: Jack Starr (F, Sr.), Liam Lacroix (F, Jr.), Bryant Caron (D, Jr.), Shea Henderson (G, Sr.)
​
Big Losses: Zack Polo, Zander Khan, Dylan Turner
​
Impact Newcomers: Owen Fernandez (F, So. Yale U15)
​
Goalie Situation: While he split time with Zander Khan at times last year, this year is all Shea Henderson's. Henderson has started for three years and looks to cap a solid career entering his senior year under new coach Chris Tornaquindici.
​
Outlook: There's a new feel around the Chieftains this year with a new coach and long team "lean on" Zack Polo graduated. And while that's all well and good Conard will go as far as three-year starter Shea Henderson will take them. Henderson is a resilient kid. Even when Zander Khan came back, Henderson still managed to put up better numbers. Look for junior Liam Lacroix to really blow up the DII scene this year. Last year, a sophomore, Lacroix, had 33 points. I think this will be a big year for him. Also pay attention to senior Jack Starr (22 points) and sophomore new face Owen Fernandez coming in from Yale U15. Conard should never have only won seven games last year. I am very concerned about their depth and their schedule. Conard opens with Cheshire, FVG, Simsbury, Glastonbury, SW, and the Bucks. They go on to face an additional seven DI teams after that including Xavier, SGWL, and NWC twice. There aren't many games they'll be favored in so accumulating wins should be a challenge.
East Haven Co-op (17-3)
Tournament Result:​ Lost as (1) seed 1-0 to (9) South Windsor in the CIAC Division II Quarterfinals
​
Coach: Lou Pane (32nd season)
​
Key Contributors: CJ Teto (F, Sr.), Zach Paquin (F, Sr.), Matt Twarowski (G, Sr.)
​
Big Losses: Joe Lorello, Joe Aloi, Mike Dogolo, Ryan Albert, Matt Latella, Shawn Wagner, Nick Capone (Salisbury), Jake Aloi (Trinity Pawling), Logan Hamilton (Wolfpack U16)
Impact Newcomers:
​
Goalie Situation: Matt Twarowski replaces the early-exiting Logan Hamilton. The freshman Hamilton excelled last year and grabbed the reins of the starting job from Twarowski. Twarowski looks to show he belongs and carry a young, inexperienced Yellow Jackets group from the back end.
​
Outlook: East Haven, for the first time ever, has co-oped. They welcome Old Lyme, Old Saybrook and East Hampton to the Yellow Jacket family and with it goes a storied solo program. Fear not, the Yellow Jacket with still adorn those sweaters and Patsy DiLungo rink will still be an East Haven home venue. The success, however, could be another story. After winning 17 games last year, the Yellow Jacket purge began. Joey Aloi, Joey Lorello, Matt Latella, Shawn Wagner, Mike Dogolo and Ryan Albert all graduated and to nobody's shock Nick Capone (Salisbury), Jake Aloi (Trinity Pawling) and Logan Hamilton (Wolfpack U16) pursued other options. While it's unknown, at least right now, what the new co-op additions bring to the party, we know what East Haven is returning. Senior forwards CJ Teto and Zach Paquin will look to pick up the scoring slack while Twarowski will be the full time guy in net. East Haven obviously won't be as good as last year. They better hope they can be half as good.
Tournament Result:​ Lost as (12) seed 3-1 to (5) Farmington Valley in the CIAC Division II First Round
​
Coach: John Hodgson (13th season)
​
Key Contributors: Owen Stacey (F, Jr.), Christian Mumley (F, Sr.), Jake Ciraco (G, Sr.), Gavin Till (D, Jr.), Jason Franklin (D, Sr.), Eamon Judkins (F, Sr.)
​
Big Losses: Nick Mayer, Evan Valenti, Matt McNeal, David Apgar
​
Impact Newcomers: Bryan Roy (F, Fr. Springfield Jr. Thunderbirds), Matt Abery (F, Fr. Junior Wolfpack)
​
Goalie Situation: Jake Ciraco, the senior, returns for his final go at a state title. He appears to be running unopposed in net especially given that long time back-up Eamon Judkins has converted to forward.
​
Outlook: The Bucks lost some major point getters in Mayer and Valenti and glue guys like McNeal and Apgar. That will be quite hard to replace. Junior Owen Stacey will be one guy who will attempt to restart the engines. Stacey is coming off an impressive 36-point sophomore season. Joining him up front will be senior Christian Mumley and the aforementioned Judkins. Look for freshmen Bryan Roy and Matt Abery to make an early impact as well. On the back end, senior Jason Franklin and junior Gavin Till will be as dependable as they come for Coach Hodgson. This is now the Bucks' third year at the DII level and if there's a downfall I see is a rather watered down schedule that sees them play nine DIII teams. The Bucks are a fun team to follow. They have a devoted, interactive fan base and have created their own sort of "Bucks brand." Will they be able to overcome the losses to graduation that they incurred? It remains to be seen.
Farmington Valley (16-4)
Tournament Result:​ Lost as (5) seed 9-6 to (4) Guilford in the CIAC Division II Quarterfinals
​
Coach: Mike Barone (25th season)
​
Key Contributors: Tim Arena, (F, Sr.), Peter Hoffman (D, Sr.), Owen Lacourciere (F, Jr.), Matt Arena (F, So.), Eric Schweitzer (F, Jr.), Sam Buchanan (F, Sr.), Jack Noble (F, Sr.), Kyle Kadziolka (F, Sr.), Marco Bernasconi (D, Sr.), Jack Labreque (D, Sr.), Lucas Powers (D, Sr.), Ryan Bellucci (G, Sr.), Trevor Paluso (G, Jr.)
​
Big Losses: Connor Adams, Tyler Guay, Danny Shayler
Impact Newcomers:
​
Goalie Situation: Senior Ryan Bellucci and junior Trevor Paluso will battle it out to see who can take the number one spot. Both saw action last year. Don't get it twisted, the Generals are a title candidate without a doubt, however they'll need to avoid allowing opposing offensive onslaughts, like the one that doomed them in the quarters last year.
Outlook: After a 16 win 2016-17 season and an anticlimactic quarterfinal exit to eventual champ Guilford, the Generals have to be coming into this season hungry and determined. To make things scarier for the rest of D2, FVG returns just about everything that made them great last year. Senior Tim Arena, a 73 point scorer from a year ago, is back. This team returns roughly 98% of its scoring and welcomes back seniors Sam Buchanon, Jack Noble, Kyle Kadziolka, juniors Owen Lacourciere, Eric Schweitzer and sophomores Matt Arena at forward. Seniors Peter Hoffman, Marco Bernasconi and Jack Lebreque will anchor the blue line. The Generals are a favorite at the D2 level. They're well coached by 25 year man Mike Barone who celebrated his 200th career victory last year. The only issue I see for FVG would be their ability to keep the puck out. Despite their great record last year, the Generals allowed 4+ goals nine times. Either Bellucci or Paluso will need to be better and if Barone is going to go with the hot hand, he better hope his scorers' hands are even hotter.
Glastonbury (8-10-2 *Division I)
Tournament Result:​ Lost as (12) seed 3-1 to (4) New Canaan in the CIAC Division 1 Quarterfinals
​
Coach: Ken Barse (22nd season)
​
Key Contributors: Drew Rousseau (F, Sr.), Tyler Sadak (F, Sr.), Chris Aiudi (F, Sr.), Justin Hazard (F, Jr.), Noah Ment (D, Jr.), Ryan Ginnett (F, So.)
​
Big Losses: Trevor Suydam, Tanner Walker, Joe Deluca, Nata Amaral, Griffin Jagel, Matt People (Salisbury Lacrosse)
​
Impact Newcomers: Jack Kantor (F, So.), Adam Poetto (F, So.), Colin Williams (D, So.), Cam Hosack (D, Sr.)
​
Goalie Situation: Junior Brendan O'Connor has some big pads to fill with Griffin Jagel graduating. Jagel saved some of his best performances for last March's Division 1 playoffs, stopping 31 in Glastonbury's upset of #5 NDWH and performing respectfully in their quarterfinal loss to New Canaan. O'Connor will be ready though and the move to D2 should lighten the blow a bit.
​
Outlook: So the Tomahawks are a Division II member, a division where Glastonbury's only state titles have come through, back in 2003 and 1999. You've all heard me speak very highly of Ken Barse over the years, a coach who has the distinction of being my first ever Coach of the Year six years ago. Glastonbury definitely lost some talent in Trevor Suydam, Tanner Walker, Joe Deluca, Nate Amaral and goalie Griffin Jagel graduating and Matt People leaving to play lacrosse at Salisbury but all is not lost for the Tomahawks. Senior Drew Rousseau is a very good player. He'll anchor an offense featuring seniors Tyler Sadak and Chris Aiudi, junior Justin Hazard and sophomore Ryan Ginnett. Junior Noah Ment is one of the only returning key contributors on D. Junior Brendan O'Connor will man the crease and look for new additions sophomores Jack Kantor to Adam Poetto to add some scoring touch. The systems are in place, Barse is still playing a tough schedule, one that features 10 D1 opponents. At the end of the day, Glastonbury has gone 59-35-4 over the last five years at a D1 level, this alone, puts them in the title hunt at the D2 level.
Guilford (15-5)
Tournament Result:​ As (4) seed won the CIAC Division 2 Championship defeating (2) Watertown-Pomperaug 5-3
​
Coach: Ralph Russo (16th season)
​
Key Contributors: John Delucia (F, Jr.), Jack Ring (F, Jr.), Jake Watrous (F, Jr.), Jack Dacey (F, So.), Joey Neleber (D, Sr.), Tom Cattaneo (D, Sr.)
​
Big Losses: Ricky Sandella, Kyle Dwyer, Jack Kane (Kent), Cam Bagnall (Jr. Rangers)
​
Impact Newcomers: Zach Woxland (F, Fr.), Mike Letourno (D, Jr.), Mete Yambul (G, Sr.)
​
Goalie Situation: It's not pretty. With Dwyer's graduation the Indians are left with a pretty bare cabinet at the goalie position. It appears, at least right now, that senior converted soccer player Mete "Matzi" Yambul will get a shot at the starting gig. The catch? He hasn't played before.
​
Outlook: The defending champs remain at the D2 level after taking down Trumbull, Farmington Valley, South Windsor and finally Watertown-Pomperaug en route to the D2 title. With the offensive potency they return, it's a wonder how the Indians are still D2. When you look at the defensive end, you get your reason. Their top D pair is D1 capable, returning senior defensemen Joey Neleber and Tom Cattaneo but those are the only two returning defensemen Guilford has. To make matters worse, the goalie situation is still majorly in flux, see above. The positives for 16 year man Ralph Russo are staggering, though. Delucia and Ring are back. Both are coming off monster sophomore seasons. Junior Jake Watrous and sophomore Jack Dacey will also certainly contribute more this year. Guilford is excited about the addition of freshman forward Zach Woxland and junior D-man Mike Letourno as well. Guilford is going to still score goals in bunches. This is the only reason they are still in the D2 title picture and a repeat isn't out of the question. And who knows? Maybe, Yambul or some other unknown entity will lock down the goalie position further solidifying Guilford as a threat.
Hall-Southington (9-8-3 *Division III)
Tournament Result:​ Lost as (6) seed 7-3 to (1) Woodstock Academy in the CIAC Division 3 Championship
​
Coach: Brian Cannon (6th season)
​
Key Contributors: Drew Booth (D, Sr.), Mike DiPietro (F, Jr.), Miles Aronow (F, Sr.), Richard Mitchell (D, Sr.), Zach Monti (Sr.), Jacob Mohr (F, Sr.), Nate Zmarlicki (F, Jr.)
​
Big Losses: Dusty Kilgore, Jeremy Fortin, Jacob Herz
​
Impact Newcomers: Jake Albert (F, Sr.)
​
Goalie Situation: Monti, a 2016-17 DIII @CTHSHockey Goalie of the Year candidate has the keys to the crease. Monti is a four year starter and as dependable as they come. He posted a 2.42 GAA last year. He'll need to be stellar if Hall-Southington's transition to DII is going to be a positive one.
​
Outlook: It's been a pretty interesting journey for Hall-Southington and Head Coach Brian Cannon. In fact, save for the 2014-15 season where the co-op went 5-15, they've been largely successful and respectable at the D3 level culminating in losing in last year's D3 championship. If you take out the 5-15 year, Cannon has had a winning record every year he's been at Hall-South reaching the quarterfinals every year but 14-15. So, that's why I don't see a major issue in their move to D2. They return a lot of talent lead by seniors Drew Booth, Miles Aronow, Richard Mitchell, Jacob Mohr and newcomer Jake Albert. They'll get underclassmen help from juniors Mike DiPietro and Nate Zmarlicki and they boast one of the better goalies to return in the state in senior Zach Monti, a 2016-17 @CTHSHockey DIII Goalie of the Year Nominee. Sure Dusty Kilgore and Jeremy Fortin are gone but I think this is a team set to be more than competitive at the D2 level.
Milford Co-op (4-16)
Tournament Result:​ Did not qualify
​
Coach: Sal Follo (24th season)
​
Key Contributors: Jake Burwell (F, Sr.), Santiago Palacio (F, Sr.), Jason Lavallee (F, Sr.), Matt Gilebbi (F, So.), Evan White (D, So.)
​
Big Losses: Andrew Gobany, Jim Cronin, Douglas McLenithan
​
Impact Newcomers: Brett Pisano (F, So.)
​
Goalie Situation: During his freshman campaign AJ Bolduc's numbers were pretty rough but to his credit things weren't much different when sophomore Luke Alfano got the go. It's all Bolduc's however this year, as Alfano is not returning. Indians will need improvement from the goalie position if they're to be successful.
​
Outlook: The stat that really jumps off the page is Milford's anemic defense. The co-op allowed 5+ goals in 16 of 20 games last year. You simply can't win that way. Would be junior goalie Luke Alfano has left the program leaving sophomore Bolduc in charge. Hindering what should be a rebuild is the loss of do-everything forward Andrew Gobany whose graduated after leading the team in goals (16) and points (31). Long time bench boss Sal Follo will turn to senior Jake Burwell (16 points), senior Santiago Palacio (8 points) and sophomore Matt Gilebbi who actually potted five goals as a freshman. Milford is pumped about the addition of sophomore Brett Pisani who many think can be an exciting new player. At the end of the day, Milford may not have enough pieces to improve on the year they had last year. Their roster would be better suited at the D3 level. This shouldn't take away from kids like Burwell, Gilebbi and a few more who I think are quality hockey players. There's just not enough of them on this team.
Tournament Result:​ Lost as (15) seed 7-3 to (2) Watertown-Pomperaug in the CIAC Division 2 First Round
​
Coach: Scott Capriglione (4th season)
​
Key Contributors: Nate Capriglione (F, Sr.), Max Halberg (F, Sr.), Ryan Berry (F, Sr.), Jack Mayers (F, Jr.), Ben Marano (G, Jr.)
​
Big Losses: Payton Meyer, Tommy Schneider, Christian Schopfer, Zach Hook
​
Impact Newcomers: Hayden Giampietro (G, Jr. South Kent)
​
Goalie Situation: This one should be fun. On one hand 4th year Coach Scott Capriglione has a proven, experienced guy in junior Ben Marano. Marano saw every minute of action for the Green Wave last year and posted a respectable .900 save percentage and a 3.90 GAA. On the other hand incoming transfer junior Hayden Giampietro comes fully loaded at least according to one area coach. Should be a fun battle to watch play out. Because of this, New Milford has one less worry than most teams this year.
​
Outlook: New Milford is going to surprise a lot of people this year. When you really dig deep into this roster, this is a team that could make a run come tourney time. They question is, will it happen? In recent memory, it hasn't. Over the last five years despite going 55-40-5, New Milford hasn't made it past the quarterfinals and have had three first round exits. I think this is a group who is primed to get over that hump potentially and it's kind of now or never for New Milford with the bulk of their contributors being seniors. They're led up front by senior captains Nate Capriglione, last year's leading scorer with 27 points, Max Halberg (15 points) and Ryan Berry, the team's leading goal scorer from a year ago with 14. On D, the Wave will rely on seniors Ben Paquin, a great takeaway guy, Bryan Almeida and Tyler Helmus. Also look for contributions from juniors Jack Mayers and Evan Golembeske and sophomore Cameron Schopfer. Giampietro entering the goalie battle with Marano does nothing less than give Capriglione options in net. It's not all gravy for the Wave, however, as they will have to replace 63 points worth of production lost to the graduiations of Payton Meyer and Tommy Schneider and the early exit of Zach Hook.
Newtown (12-7-1)
Tournament Result:​ ​ Ineligible (excessive majors/misconducts)
​
Coach: Paul Esposito (14th season)
​
Key Contributors: David Brestovansky (F, Jr.), Jack Hanley (F, Sr.), Devin Marsh (F, Sr.), Marc Carlson (F, Sr.), Jiyei Hawke (F/D, Sr.), Matthias Paltouf (F, Jr.)
​
Big Losses: Scott McLean, Dominic Cartelli, Kyle Murphy, Lucas O'Brien
​
Impact Newcomers: Carl Bianco (F, Sr. ND-Fairfield), Phil Makris (F, Fr.)
​
Goalie Situation: Justin Halmose takes over full time for Kyle Murphy. Halmose saw extended time last year and proved to be more than capable of being the main guy.
​
Outlook: Newtown's losses are big. Nighthawk legends Scott McLean and Dom Cartelli are both gone after both tallying over 50 points last year. Underrated senior forward Lucas O'Brien is gone and so is senior netminder Kyle Murphy. These losses are significant, especially in a year that the Nighthawks jump back up to D2 for the first time since the 2012-13 season. The Nighthawks put together a solid year last year and looked to be on of the few teams that could dent Woodstock's armor in the playoffs before being disqualified for excessive majors/misconducts after a February 25 multi-player scuffle with North Haven, a team already eliminated from playoff contention. Despite slowed down videos showing North Haven as the aggressor, the CIAC wouldn't budge and Newtown watched the playoffs from home. If you don't think that will be white board material for veteran coach Paul Esposito this year, then you need to remove that rock you're living under. This will be a motivated team lead by talented junior David Brestovansky and a cast of senior forwards which include Jack Hanley, Devin Marsh and Marc Carlson. Look for senior Jiyei Hawke to contribute as well as junior Matthias Paltauf. The Nighthawks are excited about senior NDF transfer Carl Bianco, a centerman and freshman forward Phil Makris. Newtown's schedule seems manageable and you'd be hard pressed to find a better motivator than Paul Esposito so I think the Nighthawks will certainly be competitive in their new division.
Tournament Result:​ Lost as (8) seed 8-2 to (9) South Windsor in the CIAC Division 2 First Round
​
Coach: Ralph Shaw (9th season)
​
Key Contributors: Sean McKee (F, Jr.), Brendan Stoner (F, Jr.), Nick Barrett (F, Jr.), Nick Mancini (D, Jr.), Brendan Dupuis (D, Sr.), Jake Neubig (F, Sr.), John Lovelace (G, Sr.)
​
Big Losses: Brian McKee, Scott Clinton, Nico Giatrellis, Marc Daddio
​
Impact Newcomers: Nick Vecchio (F, So.), Matt Pederson (F, Fr.), Tyler Dinapoli (G, Fr.)
​
Goalie Situation: Lovelace is back and is expected to be the starter for Shaw's group this year. While his numbers aren't good, 4.13 GAA and .872 save percentage, he's a year older and understands what it takes to compete now.
Outlook: Last year didn't exactly end as planned for the Thunderbirds. North Branford gained home ice with a 10-10 mark only to be crushed by South Windsor 8-2 in the first round. With 28 goal scorer Brian McKee graduated along with guys like Scott Clinton, Marc Daddio and Nico Giatrelis, the T-Birds are limited in terms of returning offensive firepower. In fact, besides junior Sean McKee who had 25 points last year, the T-Birds return only three total goals scored. Junior forward Ricky Caruso would've added one more to that list but he's out for the season. Look for forwards Brendan Stoner, Nick Barrett and Jake Neubig to attempt to replace some of that production while D-men Brendan Dupuis and Nick Mancini hold down the blue line. The T-Birds welcomes in a pair of new centers that are going to be expected to step in from day one and contribute in sophomore Nick Vecchio and freshman Matt Pederson. I have this as a down year for North Branford and they'll probably use that as motivation. I just have a hard time finding a lot of production aside from the younger McKee.
North Haven (4-15-1)
Tournament Result:​ Did not qualify
​
Coach: Nick Costanzo (1st season)
​
Key Contributors: Jamie Montesi (F, Sr.), CJ Kenny (F, Sr.), Sam Pethick (F, Sr.), Alex Cianci (D, Sr.), Corey Reilly (F, Sr.), Sean Quinn (D, Jr.), Dom Biondi (F, Jr.), Jake Wentworth (F, So.), Andrew Carmody (D, So.)
Big Losses:
​
Impact Newcomers: Jack Marottolo (F, So.)
​
Goalie Situation: Another wide-open competition is taking place at the NIP. A reported three qualified candidates will battle it out. Senior Jeremy Hickox, senior Ryan Millea and junior Danny Godlewski will compete for playing time.
​
Outlook: Sneaky, sneaky, sneaky. North Haven under first year coach Nick Costanzo just might surprise some people this year and it's mostly because of depth and a cast of competent skaters. No one on the North Haven roster jumps off the page as Skater of the Year candidate but so many of them jump off the page as guys you want to have pouncing over your boards. The Indians will get contributions from seniors Jamie Montesi, CJ Kenny, Sam Pethick, Alex Ciacnci, Corey Reilly, juniors Dom Biondi, Jake Wentworth and Andrew Carmody. Also pay attention to sophomore newcomer Jack Marottolo who comes in highly touted. North Haven has some definitely maturity this year that should help in their rebuild after a four win year last season. Put it in ink, North Haven wins more than four this year and is a tournament team.
Tournament Result:​ Lost as (9) seed 3-2 to (4) Guilford in the CIAC Division 2 Semifinals
​
Coach: Neil Rodman (15th season)
​
Key Contributors: Nate Main (F, Sr.), Jake Main (F, Jr.), Cam O'Connor (F, Jr.), Dante Colon (F, Jr.), Gabe Feher (F, Jr.), Brendan Perras (D, Jr.), Michael Gore (D, Sr.), Julian Palladino (D, Jr.)
​
Big Losses: Andrew Decasperis, Andrew White, Jack McCluskey (Canterbury), John Russo (Choate), Max Caouette (Cushing)
​
Impact Newcomers: Sean O'Connor (F, Fr.)
​
Goalie Situation: Caouette took off last year and with that his stock rose. With Caouette now at Cushing Academy, the Bobcats will turn to junior Deven Trombley. Trombley is also a highly regarded netminder and while it may take a bit for him to get comfortable, he should be fine back there for South Windsor this year.
​
Outlook: Man, did the Bobcats lose a lot! If it wasn't bad enough that guys like DeCasperis and White were graduating, McCluskey and Russo, arguably their top two skaters last year, and goalie Caouette all leave early. That leaves long time head coach Neil Rodman in quite a pickle. On offense the Bobcats will look to a pair of brothers in senior and junior Nate and Jake Main as well as junior and highly touted freshman Cam and Sean O'Connor. Also expect contributions from juniors Dante Colon and Gabe Feher. The Bobcats were left sort of in tact on the defensive end where senior Michael Gore and juniors Brandon Perras and Julian Palladino will do the heavy lifting. If new goalie Devin Trombley can keep the Bobcats in games, they do have some guys who can score. Rodman always finds a way so there's no way South Windsor totally lays an egg this year, but it's a rebuild for sure.
Trumbull (8-11-1)
Tournament Result:​ Lost as (13) seed 6-2 to (4) Guilford in the CIAC Division 2 First Round
​
Coach: Greg Maxey (21st season)
​
Key Contributors: Matt Mocker (F, Sr.), Alex Jackel (F, Jr.), Damien Styrc (F, So.), Eric McCabe (F, Sr.), Dustin Maher (D, Sr.), Marco Minopoli (D, So.), Alex Symbaluk (G, So.)
​
Big Losses: Brady Jensen, Jake Liebowitz
​
Impact Newcomers: Owen Finnegan (Fr.), Jack Maclean (Fr.), Grayson Chopskie (G, Fr.)
​
Goalie Situation: There's quite the battle set to break out with three quality goaltenders competing for really two spots. Last year freshman Alex Symbaluk exploded onto the scene and played well in relief of senior Will Guttman. But that was mainly because, then junior, Leo Thanasoulis was out with a torn meniscus. Thanasoulis is back and will look to take hold of the job. Also a dark horse candidate exists in freshman netminder Grayson Chopskie. This is a good problem to have for veteran Head Coach Greg Maxey.
​
Outlook: Greg Maxey leaned on the supremely talented Brady Jensen for a long time. Jensen has graduated as has Jake Liebowitz leaving Trumbull without some familiar faces. The good news for Maxey and the team is they have some seriously important pieces back. Senior Matt Mocker is as solid as they come. As a junior he landed 25 points. Junior Alex Jackel (17 points) and sophomore Damien Styrc (12 points) as well as senior role guy Eric McCabe round out a pretty decent offense. New to the mix this year will be freshmen Owen Finnegan and Jack Maclean so it'll be interesting to see how they figure in. On the downer side, it would appear Luke Liebowitz is a long way from coming back to action after sustaining a severe concussion. I think Trumbull will be good but they weren't terrible last year. With such a deep D2 pool it's really hard for teams like Trumbull to reclaim what they once had. In fact, Trumbull hasn't had a winning record since they went 11-9 in 2011-12 and won a D2 title as a 5-seed.
Watertown-Pomperaug (15-4-1)
Tournament Result:​ Lost as (2) seed 5-3 to (4) Guilford in the CIAC Division 2 Championship
​
Coach: Vic Vicenzi (14th season)
​
Key Contributors: Nick Labella (F, Sr.), Troy Harwell (F, Jr.), Eli Rosen (F, Sr.), Hunter Shay (D, Sr.), Drew Mancini (D, Sr.), Patsy Harris (F, Jr.), Brandon Barnosky (F, Sr.), Ryan Fleming (G, Jr.)
​
Big Losses: Jake Harwell, Ryan Dunfee, Peter Jorgensen, Joey Harris, Jared Boutot, Alex Nocera
​
Impact Newcomers: Sean Dunfee (F, So.), Ryan Magee (F, Fr.), Neil Pace (F, Sr.)
​
Goalie Situation: Ryan Fleming is one of the best goalies in the state. He lost some time to senior Alex Nocera last year. He's locked in this year.
​
Outlook: It's been no secret that WP is one of my favorites going into this year at the D2 level. Most of that starts in net with Fleming who is probably the steadiest goalie in D2. While other teams are scrambling for replacements that sense of security that Vicenzi feels in net is crucial. But it's not just that, the Indians comes back, as runners up, with a lot of weapons back, four out of five leading scorers to be exact. They are led by the talented junior Troy Harwell, WP's leading scorer from a year ago as a sophomore. Harwell will get help from junior Patsy Harris and seniors Nick Labella and Eli Rosen. Throw in senior glue guy like Brandon Barnosky and the offense is in a good place. New faces to the offense include graduated senior Ryan Dunfee's younger brother Sean, a sophomore, freshman Ryan Magee and senior Neil Pace. On D, WP has to make up for the graduation of the insanely talent and hard to move Jake Harwell and Jared Boutot. To do this, they'll look to seniors Hunter Shay and Drew Mancini. There's no questioning the talent. There's really no questioning whether WP can perform on the big stage, they made the finals last year. The only question left would be whether or not they have what it takes to take the whole thing.
Westhill-Stamford (11-8-1)
Tournament Result:​ Lost as (7) seed 3-1 to (10) Branford in the CIAC Division 2 First Round
​
Coach: John Santagata (8th season)
​
Key Contributors: Cooper Healy (F, Sr.), Gavin Dolan (F, So.), Ryan Hart (F, Sr.), Everett Dolan (D, Sr.), Jordan Marchese (F, Sr.)
​
Big Losses: Nick Rich, John Nilsen, Christian Complattaro, Owen Killian
​
Impact Newcomers: Kyle Bernard (F, Sr. Trinity Catholic), Shane Sexton (F, Sr. Trinity Catholic)
​
Goalie Situation: Junior John Kanaris backed up senior All-Stater Christian Complattaro last year and has to be eager to be in the lime light himself. He will backstop a deep talented group.
​
Outlook: I've enjoyed watching Stamford Co-op for the past couple years since Westhill and Stamford joined forces. They were upset in the first round last year in a year where I thought they could make a run as a first year D2 but they're only two years removed from winning the D3 state title in their first year as a joined group. They'll have to make up for the loss of Nick Rich, a next level talent who was as good as advertised for a few years. They also lost 2nd team All-Stater John Nilsen and the extremely dependable Christian Compolattaro in net. This year they boast one of the more unheralded players in the state in senior Cooper Healy, a 48 point scorer a year ago. He'll be helped by sophomore Gavin Dolan who had a great freshman year tallying 45 points which in a normal year would've been good enough for D2 Rookie of the Year but he was up against Nick Capone. Senior Ryan Hart (30 points) and transfers Kyle Bernard and Shane Sexton should help as well. Stalwart defenseman senior Everett Dolan will be the co-op's general on the blue line. It is expected that Santagata is bringing in a deep freshman class and senior John Kanaris is expected to take over in net. I think Westhill-Stamford will again be competitive and in the mix. It'll be interesting if Kanaris can replicate what Compo did for the past few years in net and if someone can make up for the loss of Rich. At the very least, the pieces are there for the co-op.
Woodstock Academy (17-2-1 *Division III)
Tournament Result:​ As (1) seed won CIAC Division 3 Championship defeating (6) Hall-Southington 7-3
​
Coach: Mike Starr (7th season)
​
Key Contributors: Patrick Delaney (F, Sr.), Aidan Boisvert (D, Sr.), Ryan Wojciechowski (D, Sr.), Avery Riva (F, Jr.), Doug Newton (F, So.)
​
Big Losses: Ryan Black, Nathan Deluca, Cal Wilcox, Will Liscomb, Gunner Moore (Atlanta Jr. Caps)
​
Impact Newcomers: Matthew Odom (F, Jr.), Conner Starr (D, Jr.), Jake Black (F, So.)
​
Goalie Situation: With Wilcox graduating, the Centaurs have a glaring problem in net. Wilcox played all but 7 minutes last year. Carson Hadley, who was a junior at the time, quit the team last season and has been rumored to be making a comeback, but that has not yet been confirmed. Also in the mix are junior Dylan Shea, who was Wilcox's backup last year and Josh Lavitt, a sophomore. Neither of those guys have seen any varsity time.
​
Outlook: Well like all good dreams, at some point you must wake up. Woodstock is waking up and while it's not quite a Monday thanks in large part to some solid newcomers and decent returning talent, it might be like, say, a Wednesday. Ryan Black (88 points) and Nathan Deluca (65 points) are gone. Black has moved on to the Winchendon School while Deluca and stud goalie from last year Cal Wilcox are currently playing for the South Shore Kings. Also departing is impressive underclassman from a year ago, Gunnar Moore (27 points) who is with the Atlanta Jr. Capitals. So, where does 7th year coach Mike Starr turn to now? On offense, much of the production will have to come from senior Patrick Delaney (13 points), junior Avery Riva (38 points) and last year's D3 @CTHSHockey Rookie of the Year Doug Newton (29 points). On D, the Centaurs will look to seniors Aidan Boisvert and Ryan Wojciechowski. With all the key subtractions, Woodstock had some key additions as well. Juniors Matthew Odom, a forward from California and Connor Starr, a defenseman from Massachusetts will join the group this year. Add in sophomore forward Jake Black who is coming from the Providence Capitals and Woodstock has some guy who have some serious upside. Woodstock is 50-24-1 all time since becoming a varsity program during the 2013-14 season. It's really hard for me to believe they'll take more L's than W's this year. While I don't think they'll replicate another 17 win season, I think they'll do just fine in their jump to D2.